Cherry Banana Smoothie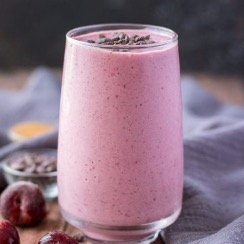 PREP TIME 5 minutes | SERVES 1
NUTRITION 358 Calories | 3 g Fat | 53 g Carbs | 33 g Protein
INGREDIENTS
● 1 cup frozen cherries
● 1 cup skim milk (or milk of choice)
● 1⁄2 banana
● 1 scoop protein powder (vanilla or chocolate pair well with this recipe)
● 1 teaspoon cinnamon
DIRECTIONS
1. Add all ingredients in the blender.
2. Mix everything at high speed until you get a smooth silky texture.
3. If the smoothie is too thick, add a little more liquid – milk or water. Blend again until everything is well combined.
Apple Cinnamon Oatmeal Cookies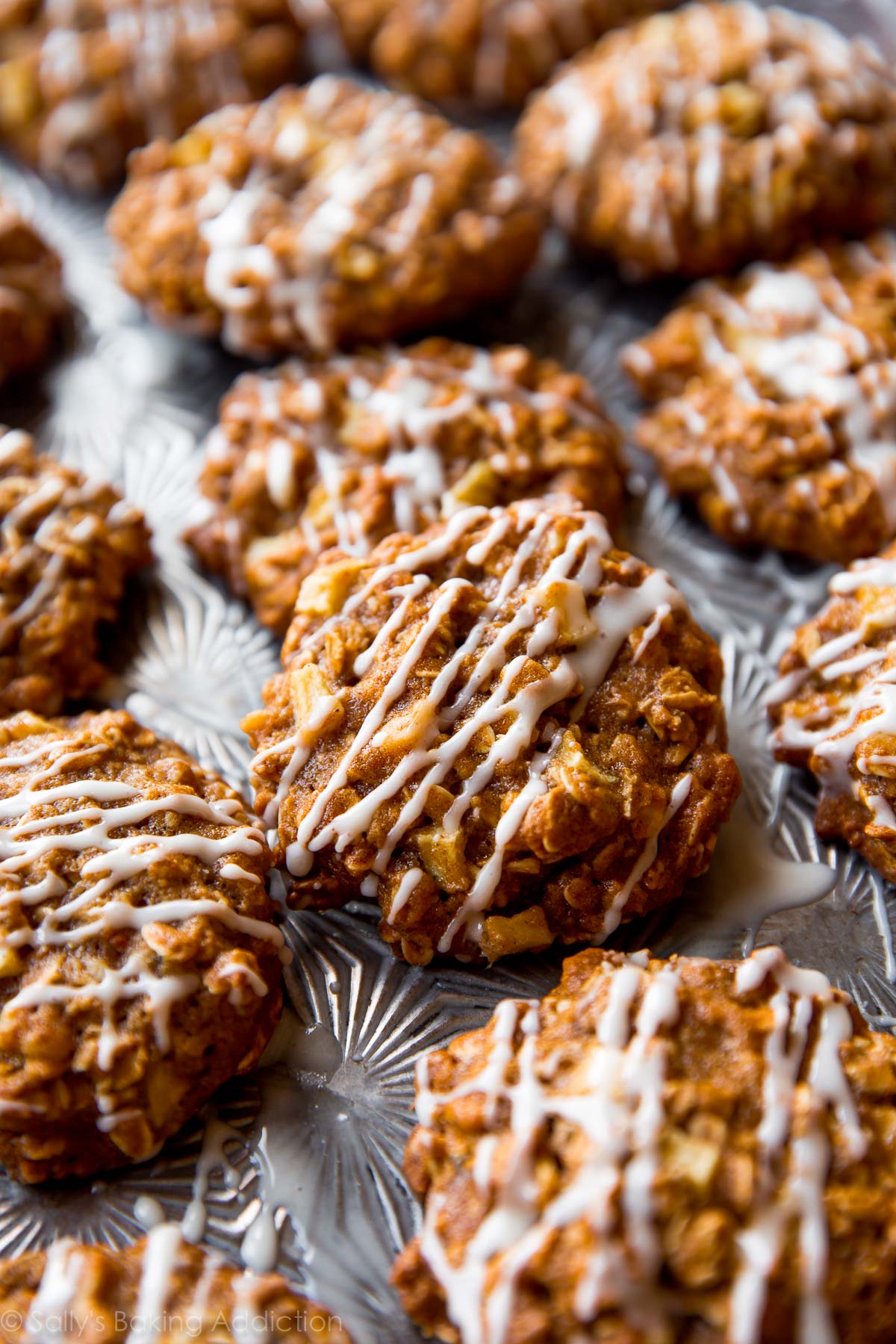 PREP TIME 5 minutes | COOK TIME 15 minutes | SERVES 12 cookies
NUTRITION FOR 1 COOKIE 159 Calories | 4 g Fat | 29 g Carbs | 3 g Protein
INGREDIENTS
● 1 cup rolled oats or quick oats
● 3⁄4 cup whole grain flour
● 1 teaspoon baking powder
● 1⁄4 teaspoon salt
● 2 teaspoons cinnamon
● 1⁄4 teaspoon each: ground nutmeg, allspice
● 1 egg
● 2 tablespoons extra virgin coconut oil in liquid form
● 1 teaspoon vanilla extract
● 1⁄2 cup maple syrup or honey
● 1 large sweet apple grated or chopped into small cubes
● 1⁄2 cup dried cranberries or raisins
DIRECTIONS
1. Preheat the oven to 356F. Line a large baking sheet with parchment paper
2. In a bowl, mix the dry ingredients – flour, oats, baking powder, salt, and spices.
3. In a separate bowl whisk the egg. Add coconut oil, vanilla, and syrup or honey. Mix well with a whisk until well combined.
4. Add the wet mixture to the dry ingredients and mix. Finally, stir in the grated or chopped apples and dried cranberries or raisins. Mix gently with a spoon.
5. With a spoon, scoop the dough, then shape into slightly flattened balls. Arrange the cookies 2-inches apart on the prepared baking sheet and bake cookies for 12 to 15 minutes.
6. When you get them out of the oven, cookies will be soft. Leave them to cool for a few minutes on the baking sheet then transfer them to a cookie rack to cool completely. They will harden after they cool down.
Sheet Pan Lemon Chicken with Leeks and Potatoes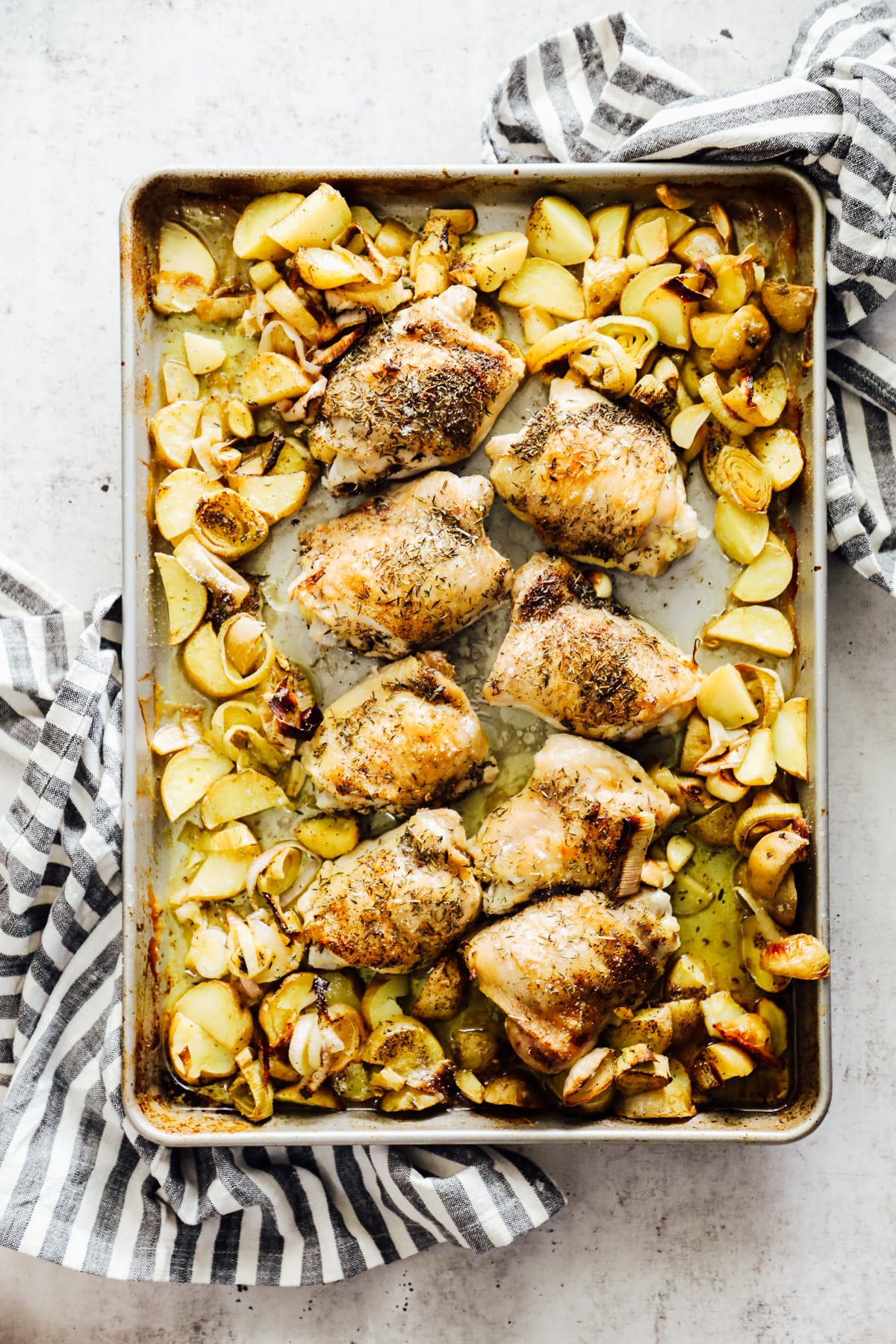 PREP TIME 10 minutes | COOK TIME 50 minutes | SERVES 6
NUTRITION 493 Calories | 33 g Fat | 22 g Carbs | 27 g Protein
INGREDIENTS
● 1.5 lbs. Yukon gold potatoes (about 8-11), chopped
● 2 leeks white and light green parts only, sliced
● 1 head garlic (about 8-11 cloves), peels removed
● 6-8 bone-in, skin-on chicken thighs
● 1/4 cup extra virgin olive oil
● 1 lemon
● 1 1/2 tsp salt to taste
● 1/2 tsp black pepper to taste
● 2 tsp dried thyme
DIRECTIONS
1. Preheat the oven to 425F. Place the sliced leeks in a medium bowl filled with water and let soak for about 5 minutes. Drain the water from the leeks, rinse them under water and dry.
2. Arrange the leeks, potatoes, and garlic cloves on the sheet pan. Pour half the olive oil, squeeze half of the lemon and sprinkle 1 tsp salt and 1⁄4 tsp pepper over the veggies. Toss to combine. Push the veggies to the edges of the sheet pan, forming a space in the center of the sheet pan for the chicken.
3. Arrange the chicken in the center of the sheet pan. Drizzle the remaining olive oil, the rest of the lemon juice, the remaining salt and pepper and all of the thyme over the skin of the chicken thighs. Rub your hands over the skin to evenly distribute the spices, if needed.
4. Place the sheet pan in the center rack of the oven, and bake for 35-45 minutes, or until the veggies are cooked through and slightly crisp on some edges and the chicken is cooked through (the juices run clear) and the skin is brown and crispy.
5. Remove the sheet pan from the oven and serve warm. Season with salt and pepper if needed.
Avocado Egg Salad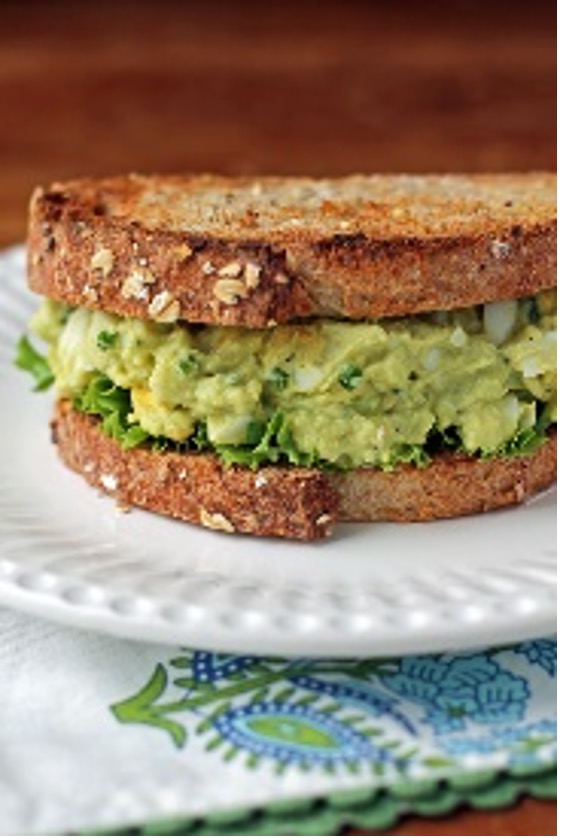 PREP TIME 5 minutes | COOK TIME 10 minutes | SERVES 2
NUTRITION 386 Calories | 22 g Fat | 32 g Carbs | 16 g Protein
INGREDIENTS
● 1 avocado ripe
● 3 eggs
● 2 tablespoon Greek yogurt
● Juice from half lemon
● 1 teaspoon Dijon mustard
● 1⁄2 teaspoon dill
● 1⁄4 teaspoon turmeric
● Salt and Black Pepper to taste
● 2 slices of bread
DIRECTIONS
1. Add water to a pot and bring to a boil. Carefully add 3 eggs and cook for 8-10 minutes. When eggs are cooked, run them under cold water and break off the shells. Cut the eggs into small pieces.
2. Half, pit, peel and cube avocado, add to a mixing bowl and mash the avocado with a fork until chunky.
3. Add in Greek yogurt, freshly lemon juice, Dijon mustard, dill and turmeric. Mix with the spoon until creamy.
4. Add in chopped hard-boiled eggs. Season it with salt and pepper. Mix gently with the spoon.
5. Assemble onto sandwich bread, toast bread if preferred. Add optional toppings like a hand-full of spinach or arugula, tomatoes, onions or lettuce.
6. Serve immediately at room temperature, or chill and serve cold.