Lemon Coconut Energy Balls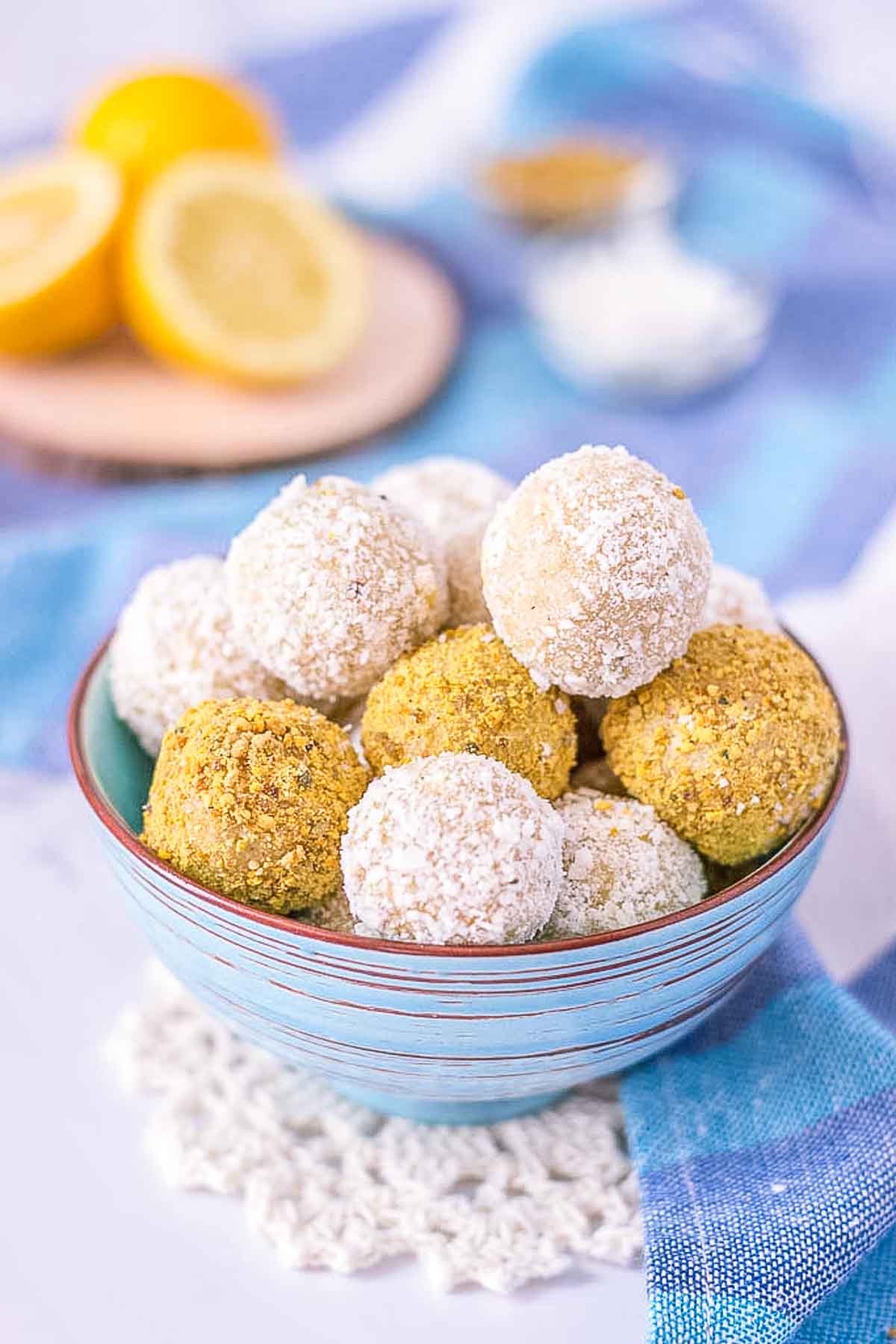 PREP TIME 10 minutes | SERVES 8
NUTRITION (2 balls) 154 Calories | 10 g Fat | 10 g Carbs | 4 g Protein
INGREDIENTS
● 1 cup cashews
● 1⁄2 cup shredded coconut
● 2 tbsp hemp seeds
● 1 tsp lemon zest
● 2 tbsp lemon juice
● 2 tbsp maple syrup or honey
● 1 tsp vanilla extract
DIRECTIONS
1. Add all ingredients into a food processor and allow to process for 3 to 5 minutes or until the dough is formed.
2. Check the texture by pinching the dough between your fingers. It should be sticky and keep its shape. If it is too dry, add more lemon juice (or small drops of water). If too wet, add more shredded coconut.
3. Using a tablespoon, scoop out dough and roll between your palms to form balls.
4. Roll them in shredded coconut or bee pollen powder and shake off excess. Refrigerate to harden.
5. Store in a sealed container in the fridge for up to 7 days.
DESCRIPTION
Hemp seeds are a great source of high-quality protein and are rich in two essential fatty acids, omega-6 and omega-3. They're also a source of gamma-linolenic acid which may reduce the risk of heart disease by reducing inflammation.
Cinnamon Orange Granola Yogurt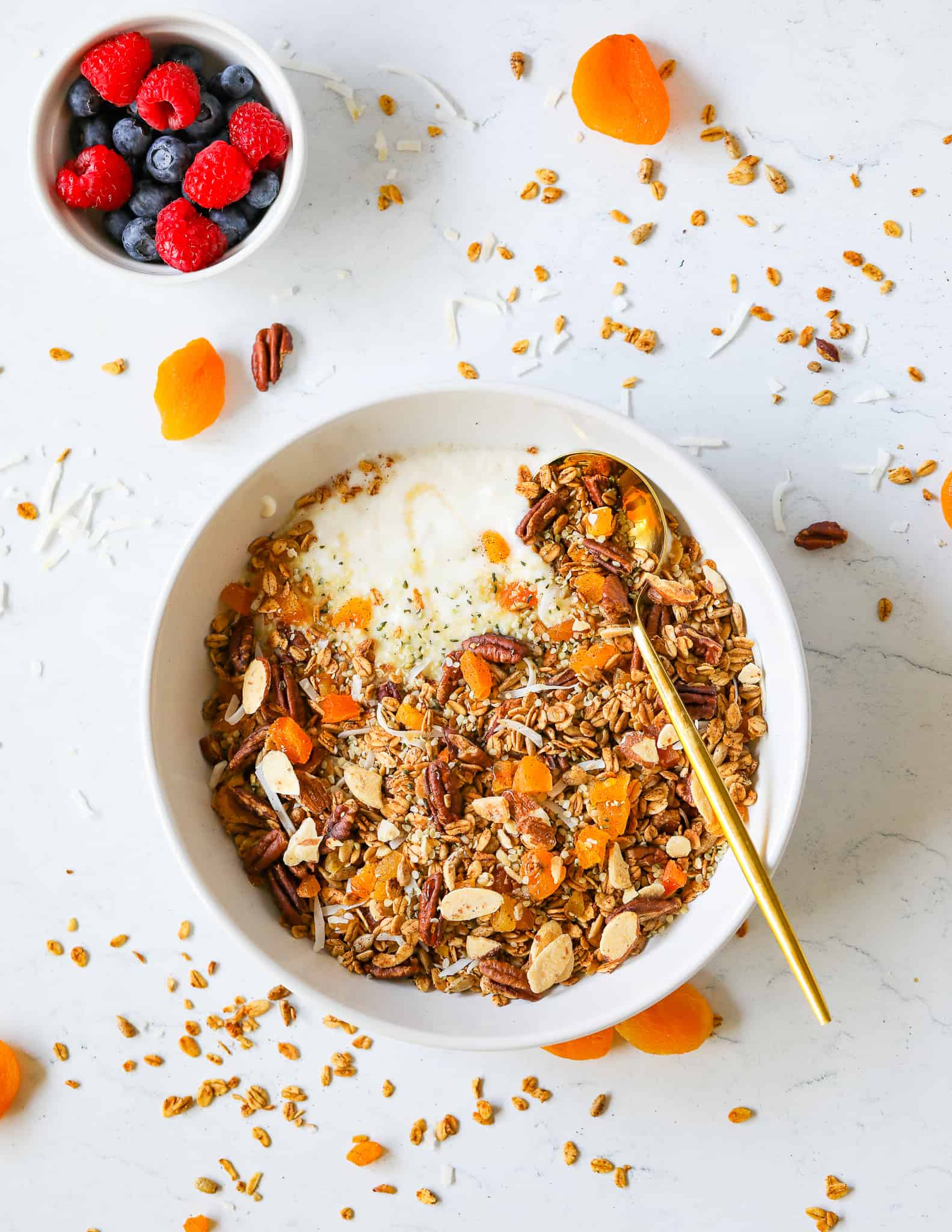 PREP TIME 10 minutes | COOK TIME 30 minutes | SERVES 5
NUTRITION 355 Calories | 12 g Fat | 40g Carbs | 23g Protein
INGREDIENTS
● 1 1⁄4 cups rolled oats
● 1⁄4 cup chopped walnuts
● 1⁄8 cup sunflower seeds
● 1⁄8 cup dried dates or any dried fruits (apricots, cranberries, etc.)
● 1 teaspoon cinnamon
● 1⁄8 teaspoon salt
● 3 tablespoons maple syrup or honey
● 1⁄8 cup extra virgin coconut oil
● 1⁄2 teaspoon vanilla extract
● Zest from 2 oranges
● 5 cups nonfat Greek yogurt
DIRECTIONS
1. Preheat oven to 325 °F. Line baking sheet with parchment paper.
2. Zest 2 oranges, chop walnuts and dried dates, and melt coconut oil. In a large mixing bowl, combine oats,
chopped walnuts, chopped dried dates, sunflower seeds, salt, and cinnamon.
3. In a small bowl, combine maple syrup, melted and cooled coconut oil, vanilla, and orange zest.
4. Pour the wet mixture over the dry ingredients and mix with spatula until all of the dry ingredients are coated in
the wet mixture.
5. Spread granola mixture into an even layer on the baking sheet.
6. Bake for 20 minutes then stir granola, without breaking up any clumps. Continue baking for 10 minutes until golden color. The granola will be slightly sticky when you take it out and will crisp up when it cools, don't over-bake.
7. Allow the granola to cool completely before storing. It can be stored in a sealed container for up to 2 months.
8. Serve 1⁄3 cup of granola over 1 cup of Greek yogurt.
DESCRIPTION
This recipe is a healthy granola alternative, made without processed sugars. Make it your own creation by adding your favorite dried fruits.
Buffalo Chicken Rice Bowl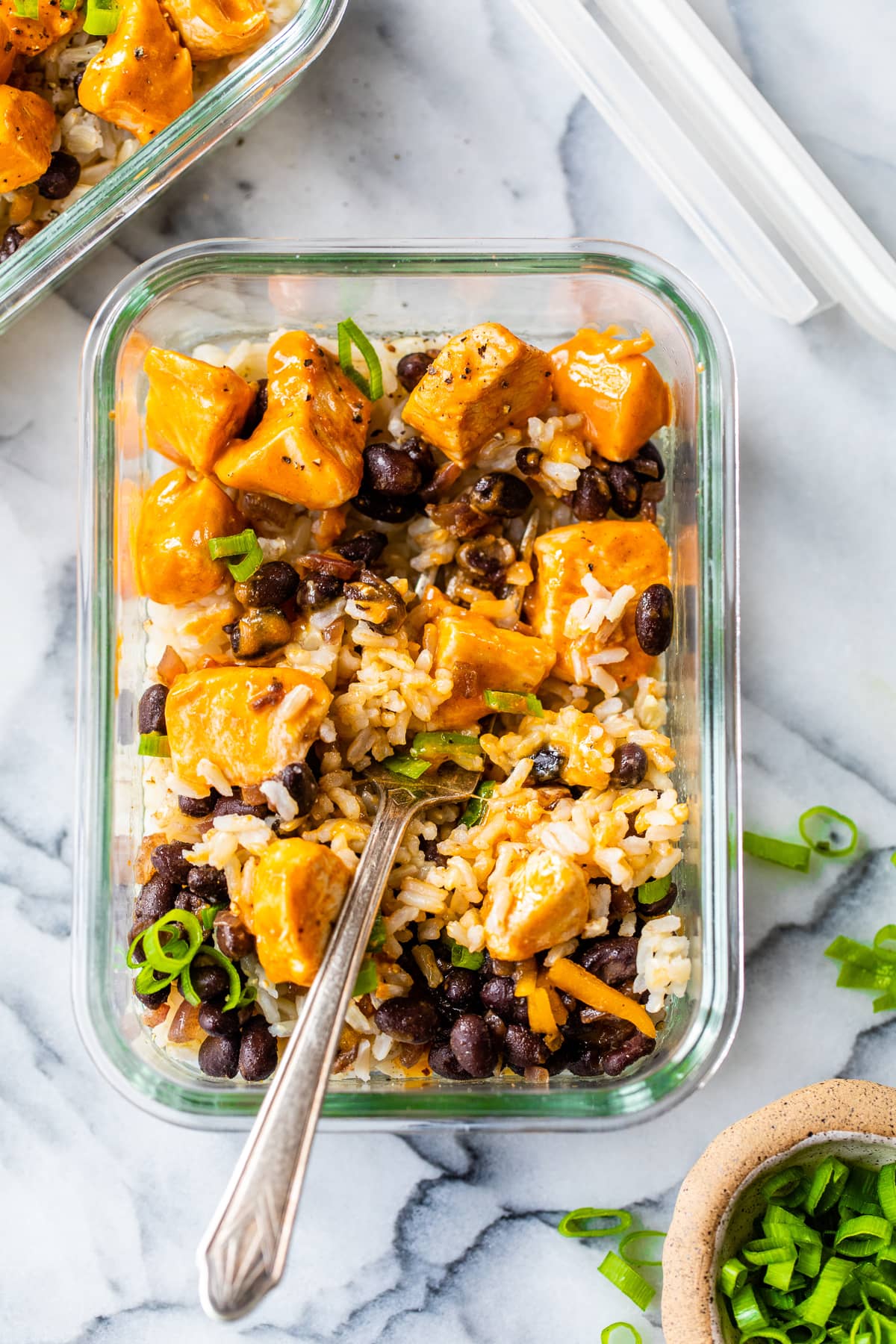 PREP TIME 15 minutes | COOK TIME 15 minutes | SERVES 4
NUTRITION 485 Calories | 10 g Fat | 48g Carbs | 50g Protein
INGREDIENTS
● 1.5 ounce boneless skinless chicken breast, diced into 1⁄2 inch cubes
● 1 teaspoon olive or canola oil
● 1⁄2 cup diced red onion
● 1⁄2 tsp paprika
● 1⁄2 tsp cumin
● 1⁄4 teaspoon kosher salt
● 1 cup canned low sodium black beans rinsed and drained
● 1⁄2 cup buffalo sauce, Franks
● 3 cups cooked brown rice
● 1⁄2 cup part-skim cheddar cheese or dairy free cheddar
● 1⁄4 cup chopped scallions
DIRECTIONS
1. In a medium pot, heat oil over low-medium heat. Add onions and cook until they have caramelized
slightly, about 5 minutes.
2. Add rinsed and drained black beans, paprika, cumin and salt. Stir to combine and cook 3 to 4 minutes.
3. While that cooks, heat a large skillet over high heat. When hot, add oil and then add chicken.
4. Cook chicken until browned and cooked through the center, about 5 minutes, flipping half way through.
5. Mix cooked chicken with buffalo sauce in a medium bowl.
6. To serve pour 3⁄4 cup rice in each bowl, top with 1⁄4 cup beans and cheese, divide the chicken evenly in the bowls, and top with scallions.
DESCRIPTION
This recipe is savory, juicy, and packed with protein. It's also a great recipe to try for meal prep!
Salmon Fried Rice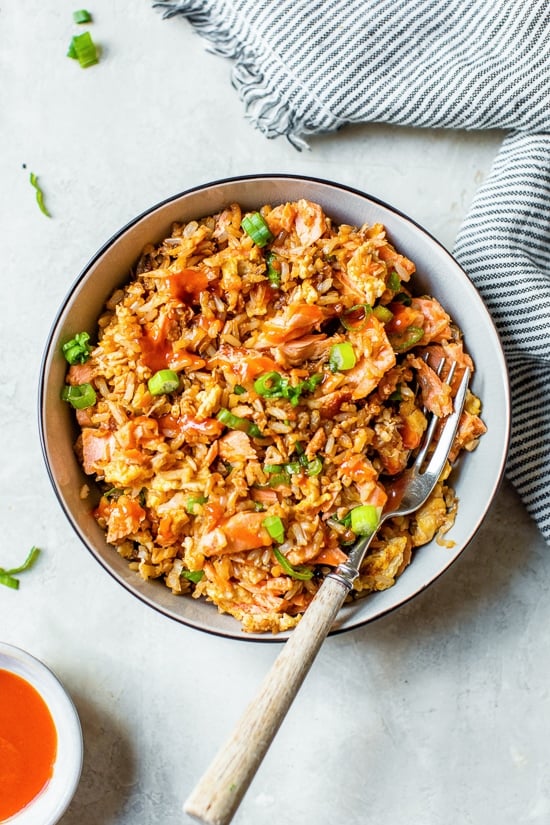 PREP TIME 5 minutes | COOK TIME 20 minutes | SERVES 1
NUTRITION 408 Calories | 18 g Fat | 28g Carbs | 34g Protein
INGREDIENTS
● 4 ounces skinned wild salmon filet
● 1 teaspoon sesame oil, divided
● 1 large or 2 small scallions, thinly sliced, whites and greens separated
● 1⁄2 cup cold cooked rice, preferably brown short grain
● 3⁄4 cup frozen cauliflower rice
● 1 large egg, beaten
● 1⁄2 teaspoon soy sauce or gluten free Tamari
● Sriracha or Chile-garlic sauce, optional
DIRECTIONS
1. Heat a medium nonstick pan over medium-high heat and cook salmon for 5 minutes on each side. Set aside and flake the salmon into small chunks with a fork. Wipe the pan.
2. Heat 1⁄2 teaspoon of oil in a pan over medium-high heat. Add scallion whites and stir until fragrant, about 1 minute.
3. Add the rice to the pan in an even layer. Allow to cook without stirring for 2 to 3 minutes or until the bottom becomes slightly crispy.
4. Add the cauliflower rice to the pan and stir to combine and allow to cook for 2 to 3 minutes.
5. Push the rice to one side of the skillet. Crack egg onto the open side and constantly stir the egg as it cooks for 30 to 60 seconds or until cooked through. Mix the rice, cauliflower, and egg.
6. Stir in soy sauce and sesame oil.
7. Gently fold the flaked salmon into the pan and serve immediately. Garnish with green scallions.
8. Add Sriracha or Chile-garlic sauce (optional).
DESCRIPTION
Salmon provides essential fatty acids that your body can't make and needs through your diet. It is full of nutrients like zinc, phosphorus, potassium, selenium, and vitamin B.